Kitesurfing in beautiful Soma Bay
Highlights Kitesurfing Day Trip
Itinerary day trip
|
Individual prices
|
Package prices
---
Large standing area and huge freerider area
Premium services included: set-up, launching/landing assistance and rescue with Zodiac
Flexible material rental at attractive prices
Freshly prepared lunch on the boat
Snacks and various drinks from Nespresso coffee and soft drinks to beer and cocktails

 

Bean bags, hammocks and sun loungers to relax on
Toilets and showers (hot/cold fresh water)
230V solar power - no generator noise
Wifi via 4G
Downwinder back to the center in the afternoon
Itinerary of the day trip

---
Departs from the Tornado Surf Center
---
It starts in the morning between 8 and 8:15 o'clock: Every day we drive you from the center to the kite and wing spot in Soma Bay. You either go to the spot with the Kite Adventure Boat or with a transfer boat, depending on whether the Kite Adventure Boat stayed at the spot overnight. The half-hour drive takes you along the coast - with a bit of luck you might even see a dolphin. If you are not in Safaga, we will pick you up with a transfer boat from one of the surrounding marinas.
Arrival at the spot
---
As soon as the boat is anchored at our spot, or you have arrived at the spot with a transfer boat, you can repare for your first kite or wing session of the day.
1st session
---
Check the wind strength, grab your equipment, pump with the compressor and off you go: Let's have fun!
lunchtime
---
What could be nicer after an extensive kite or wing session than dedicating yourself to lunch? Help yourself to the lovingly prepared buffet with various dishes, freshly prepared every day in the on-board kitchen. Recharge your batteries for the next round in the water.
Relaxe & Chill
---
Use the time for a relax in the on the sun deck or chill in the hammocks and bean bags under the shade roof.
2nd session
---
In the afternoon, Soma Bay awaits you in beautiful light. The perfect conditions for another session. Practice a new trick. The Soma Bay is available to you as a playground. Should something go wrong: Our rescue team keeps a constant eye on the area and will come to your aid with the Zodiac.
Downwinder
---
If the wind is good in the late afternoon, you can cover the five-kilometer route back to the center as a downwinder. Enjoy this end of the day along the coast accompanied by boat and land with the kite directly at the center in Safaga.
return trip
---
Now, it's "Apéro-Time", "Beer-o'clock" or just time for a cool drink: Because now we're going back to the Tornado Surf Center. Meanwhile, you can speak with others at the large table about the day's experiences or simply stretch your tired legs on the sun deck.
Our goal is:

---
…to give you a perfect holiday.
On our boat you spend the whole day with kiters - far away from the tourist hustle and bustle of the big hotel complexes. We anchor at the edge of the lagoon where you can jump straight into the water and get started. It doesn't matter whether you, as a student, do kite training with one of our experienced instructors, rent kite equipment or bring your own material, you are always welcome with us.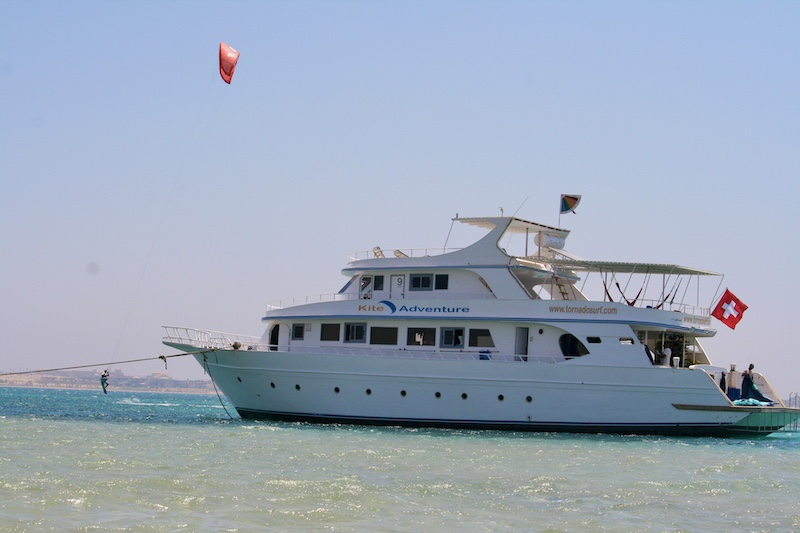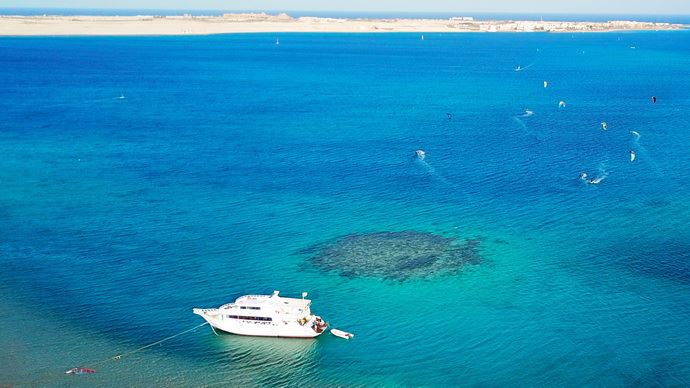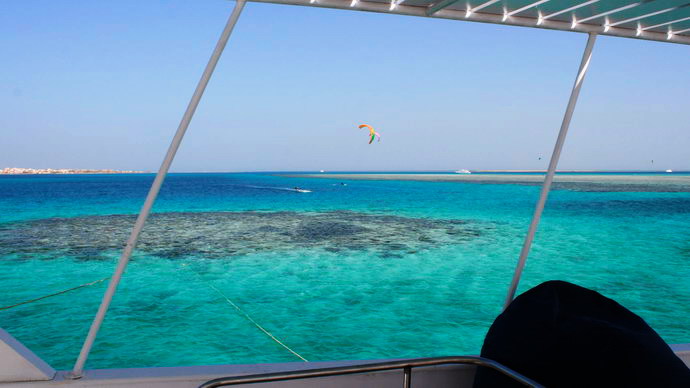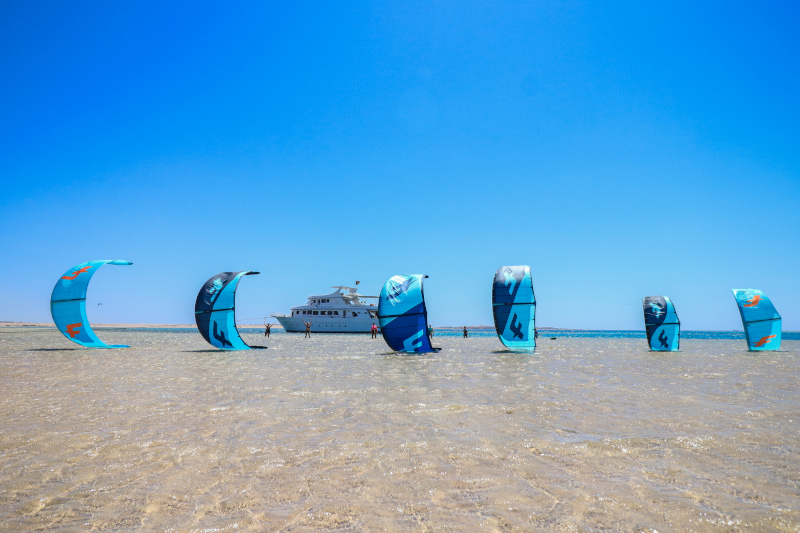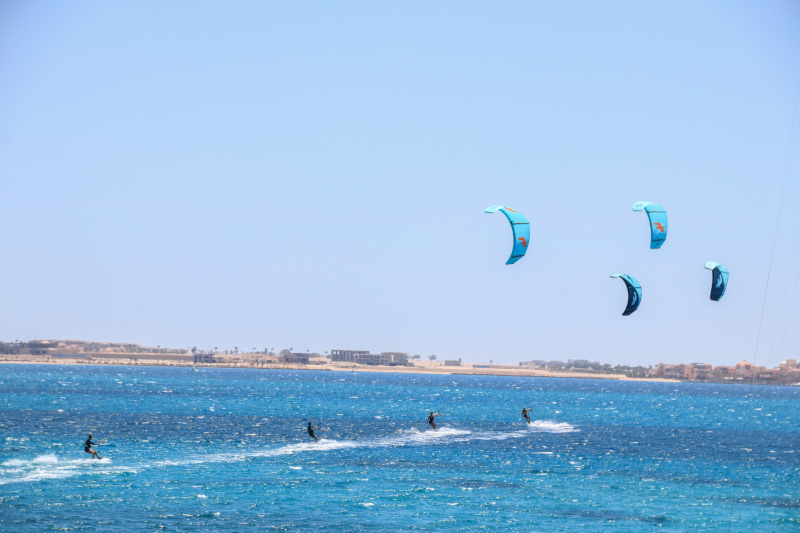 No wind activities

---
If there is no wind or for those who are not addicted to water sports, there are various activities that you can use to add variety to your vacation day.
Stand Up Paddling
Wakeboarding
Wakefoiling
Snorkeling
Massages
Yoga
Overview Kite-Eat-Sleep
Itinerary Kite-Eat-Sleep
|
Individual prices
|
Package prices
---
Overnight stay directly on the Kite Adventure boat in the marina
Each of the ten double cabins has its own bathroom with shower (hot/cold fresh water)

 

Always freshly prepared meals (breakfast, lunch and dinner)
Snacks and a variety of cold and hot drinks available 24 hours a day
Flexible length of stay – one to several nights
Attractive price/performance ratio
230V solar power - no generator noise
Wifi via 4G
Itinerary of KITE-EAT-SLEEP Day

---
Breakfast
---
Freshly squeezed fruit juice or an omelette? No problem for our chef, who is ready with the breakfast buffet from 7:30 o'clock.
Itinerary of the day trip
Dinner
---
Our chef serves dinner either as a plate service or in the form of a buffet. Review the day with the other guests or look at the starry sky on the sun deck.
Evening program
---
There is no set program after dinner. Going out together, playing, reading, or just chilling out. Everyone as they want...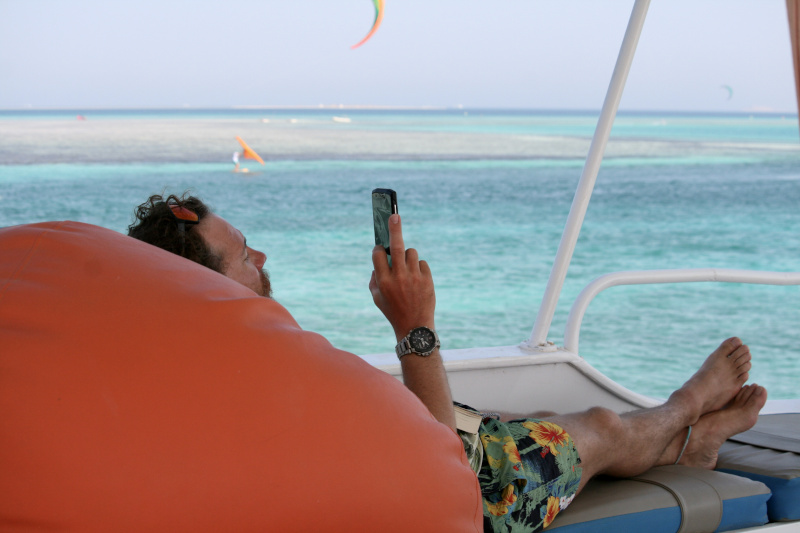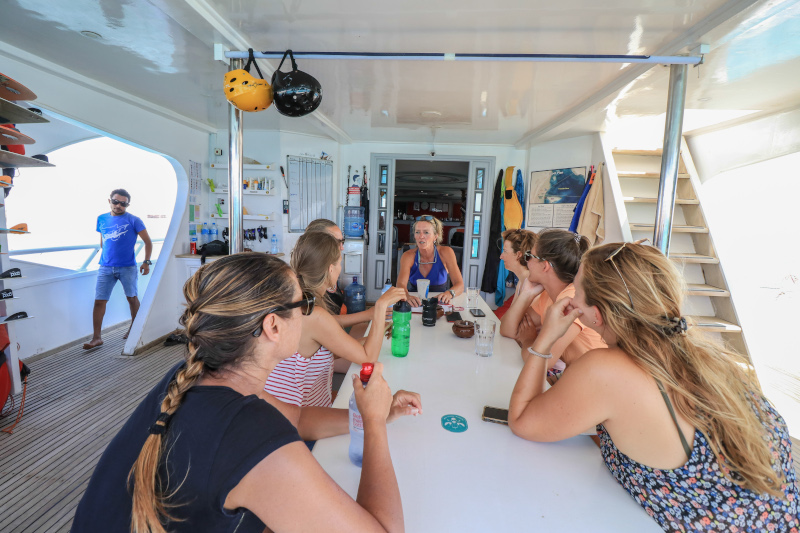 Living on the boat

---
The Kite Adventure with a length of 30 meters, its four decks and ten cabins offers space for a maximum of 20 overnight guests. In this round, the boat is all yours between about 5 pm and 8 am.
During the day, other guests usually join you and use the boat as a floating kite station.

The Kite Adventure stays overnight in the protected marina. Here the boat lies absolutely calm and without rocking, even if the wind blows all night. Some of the crew also stays on the boat overnight for safety.

As long as the boat is in the marina, you can come and go flexibly at any time. So you have the opportunity to go to one of the nearby restaurants for dinner, shopping, or to participate in one of the weekly parties.

Your stay on our boat can be flexible: Stay one night, one week or longer.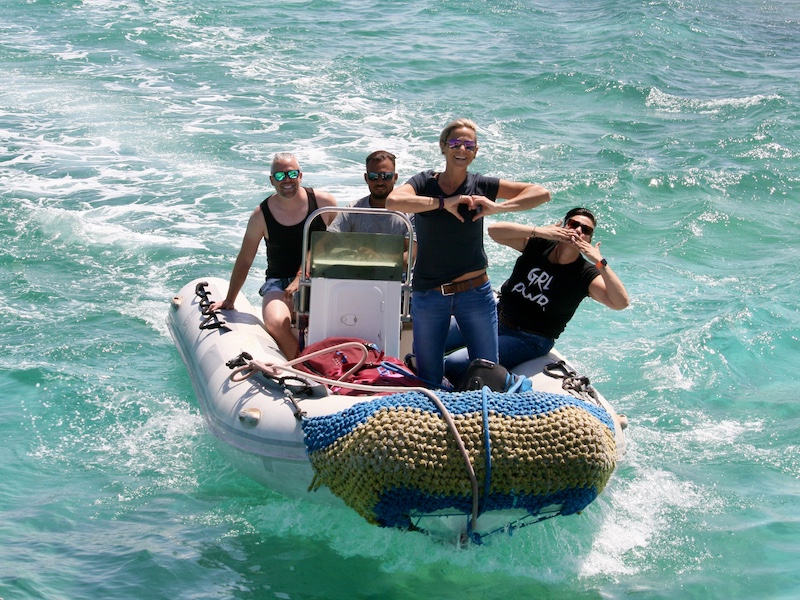 We're happy to pick you up

---
Would you like to kitesurf or wingfoil with us, but prefer a different type of accommodation? No problem. We organize the transfer if you don't spend the night in the vicinity of the center. The hotels in Soma Bay are served with our Zodiac service. Here you will find the exact coordinates where we will pick you up:
We can also organize a taxi service for you from Makadi Bay, Sal Hashish and Safaga.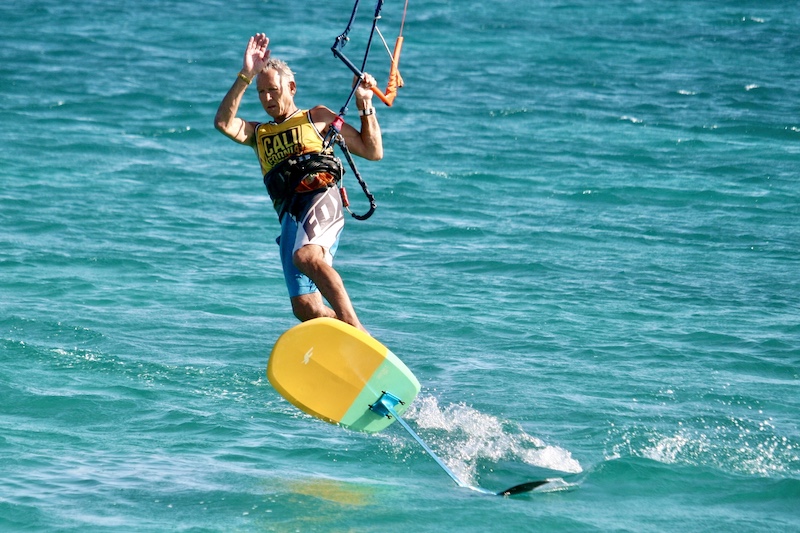 Overview of kite foiling in Soma Bay
Kite Courses
|
Equipment Rental
|
Prices
---
Direct access to deep water
Huge freeride area with no shallows
Special brackets on the outside of the boat for storing the boards including the mast
Rescue service with Zodiac
Learn kite foiling right behind the boat with one of our IKO instructors
Rent kitefoil boards with different wing and mast lengths
Daily up and down winders possible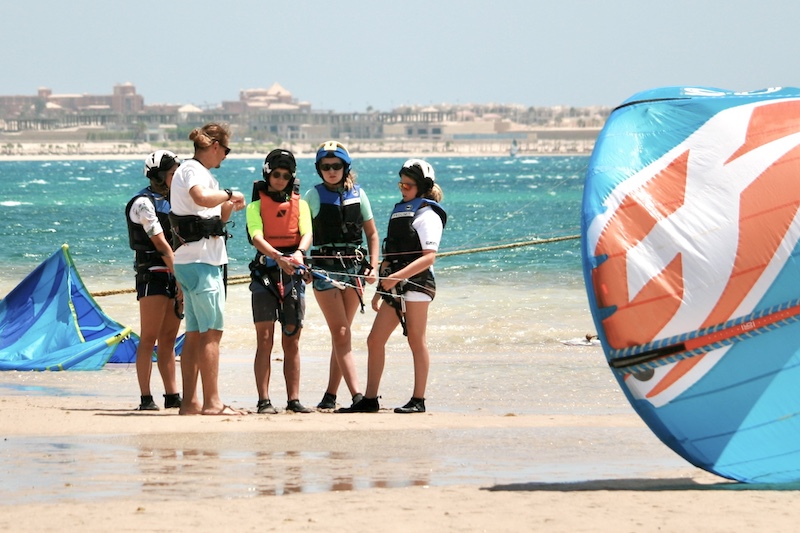 Taster course
Lesson Prices
 | 
Package Prices
 | 
IKO Levels
---
You just want to get a taste of this trendy water sport? After two lessons you can decide whether you like it and continue seamlessly with the beginner's course if you wish.


IKO Level 1
Just to try out
Short theory, safety aspects
Material Handling
Taking off and landing
Kite control
Body-drag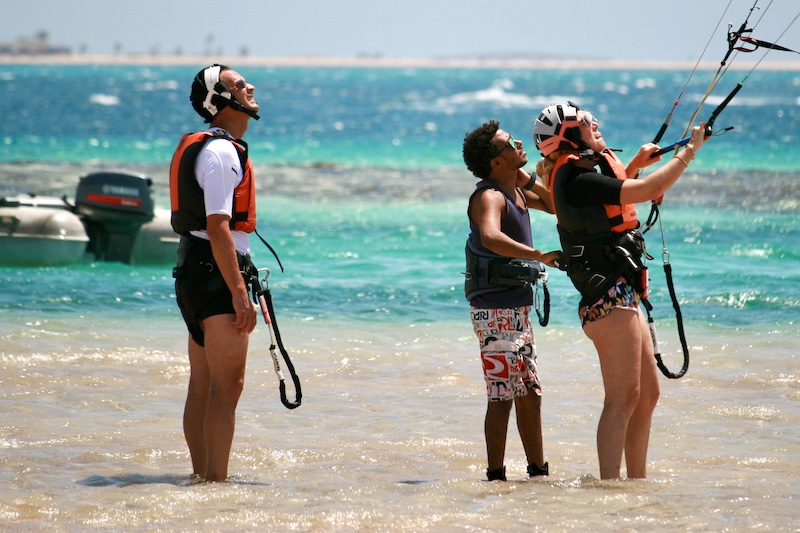 Beginner course
Lesson Prices
 | 
Package Prices
 | 
IKO Levels
​
---
Do you want to learn how to kitesurf properly from scratch? Taking the first steps in the fascinating world of kitesurfing? We will show you how to learn kitesurfing safely, successfully and with fun.


IKO levels 1-3
Theory and material science
Taking off and landing
Kite control
Body-drag
Water start
Drive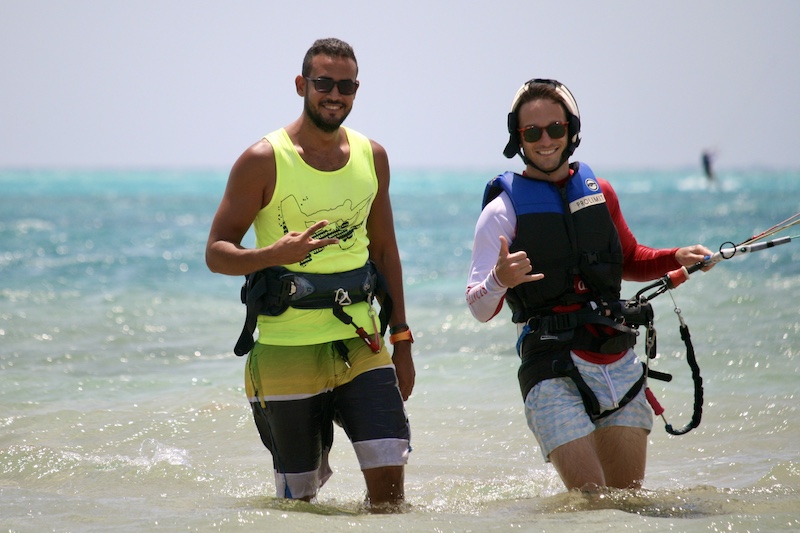 Refresher course
Lesson Prices
 | 
Package Prices
 | 
IKO Levels
​
---
You already completed a basic course, but you still need more confidence to kite all by yourself? Or was your last kitesurfing experience a while back and you want some support and a few tips for a successful re-entry?


IKO level 2-3
Refresh theory, safety system and material handling
Launching, landing and general kite control
Body-drag, water start, driving
Hold up and win
Tack, jibe, switch
Self-Rescue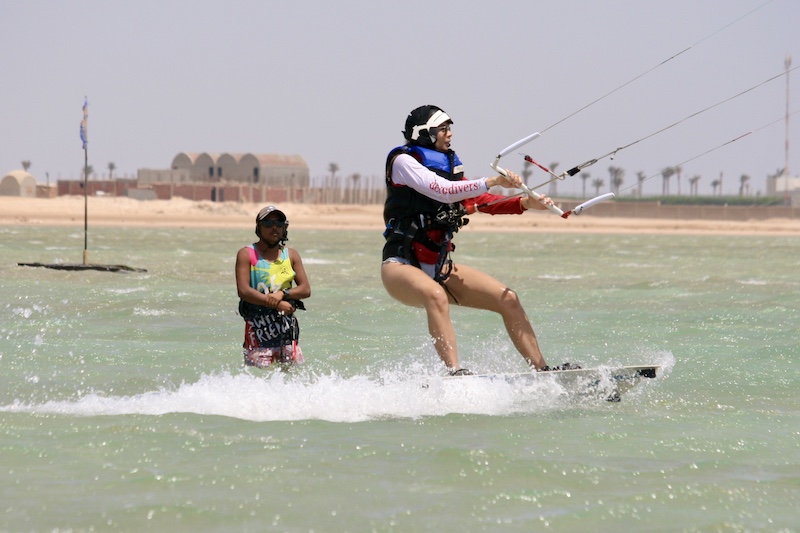 Advanced course
Lesson Prices
 | 
Package Prices
 | 
IKO Levels
​
---
Do you want to achieve your learning goals quickly and efficiently? Simply book an instructor by the hour who will cater to your individual needs. In combination with the Bb-Talking-Funk, this guarantees you quick and guaranteed success at every skill level. 


IKO Level 3+
Tack, jibe, switch
Kite control and timing
Jumps
Rotations
Self-Launch, Self-Land, Self-Rescue
and much more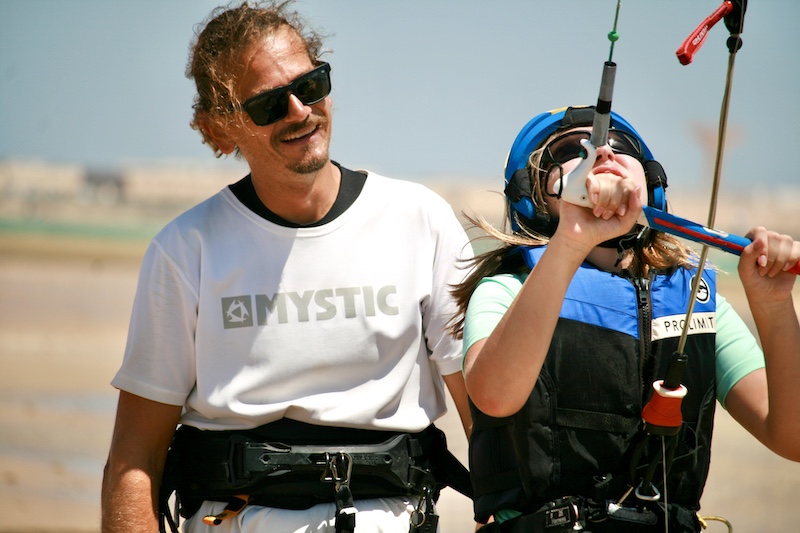 Private lesson
Lesson Prices
 | 
IKO Levels
​
---
The one-on-one tuition during kitesurfing lessons offers you the undivided attention of the instructor. He or she coaches you according to your needs and at your pace 1-on-1. This method is particularly useful for learning a specific maneuver or for children under the age of 12.


All levels
Flexibility in course planning
Efficient practice under the supervision of an instructor
Spot description

---
Soma Bay not only offers a lot of wind and warm temperatures all year round but it is also one of the most beautiful kite spots on the Red Sea. The area is suitable for all skill levels: beginners will find ideal conditions for learning in the approx. 2 km² large lagoon, which is mostly knee to waist deep. Advanced riders, whether freeriders or freestylers, can enjoy endless space in the turquoise waters of Soma Bay, regardless of the tides. The surface is mostly flat to choppy. In the morning, the wind usually starts off-shore from the north-west – often around 5 to 10 knots stronger than the wind forecast predicts. At noon the wind turns to "sideshore" from the north. Depending on the time of year, the wind slowly dies down in the afternoon, but can also blow through until just before sunset.
Tides Safaga / Soma Bay 2023

---